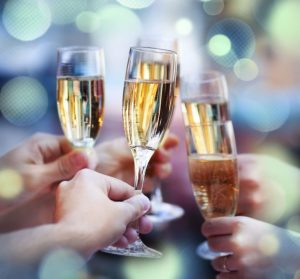 Are you planning a birthday party, anniversary dinner of a simple get-together or friends, family or colleagues? At Bartellas we have menus to fit all occasions, tastes and budgets.
Speak with the Restaurant Manager so that we can then discuss your requirements, personalise menus, arrange seating plans and suggest some extra touches to make your event special. We can now offer the Orangery and the Salon for private dining (minimum party size for the Salon is 16 guests).
Contact us on 01474 812154 to book or for more information.
Tempura battered prawns with sweet chilli
Roasted butternut squash & pumpkin soup (v)
Salad of stilton, walnuts, roasted peaches & pumpkin seeds (v)(n)
Thai style mussels, chilli, coconut, lemongrass & coriander
Carpaccio of beetroot, goat's cheese & pecan nuts (v)(n)
Game & duck terrine, Cumberland sauce
Beef bourguignon, creamy mashed potato, spinach with nutmeg butter
Wild mushroom & creamed leek wellington with a dark truffle pesto (v)
Sticky back baby ribs in BBQ sauce, corn on the cob, spicy onion rings & skinny chips
Suprême of chicken filled with asparagus & brie, halloumi fries & wild mushroom sauce
Ricotta & spinach tortellini, tomato & basil sauce, roasted pistachios (v)(n)
Fillet of sea bream, dauphinoise potatoes, winter greens, lobster & crayfish sauce, lavender foam
Ice cream or sorbets
Malibu & coconut panna cotta
Profiteroles with chocolate sauce
Sticky toffee pudding with clotted ice cream
Chocolate fudge brownie with a mango sauce
Vanilla crème brûlée
(v) = vegetarian (n) = nuts