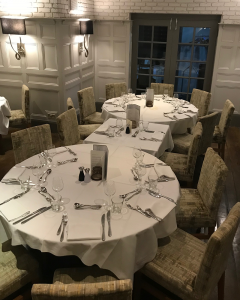 Are you planning a birthday party, anniversary dinner of a simple get-together or friends, family or colleagues? At Bartellas we have menus to fit all occasions, tastes and budgets. Speak with the Restaurant Manager so that we can discuss your requirements, personalise menus, arrange seating plans and suggest some extra touches to make your event special. We can now offer the Orangery and the Salon for private dining (minimum party size for the Salon is 16 guests).
Mid-size parties
Where access to The Salon on the first floor is an issue, for parties of between 14 and 20 people who wish to sit and be served at the one table we can offer a combination of two large round tables joined together, in the corner of the ground floor restaurant over by the French doors. Effectively you have your semi-private space but still with the buzz of the restaurant.
We would then devise a bespoke table d'hote menu for the group and occasion: a choice of starters, mains and desserts, ordered once seated and at a price to suit your budget.
See the current party menu (not available during December) contact us on 01474 812154 to book or for more information.
Chilli & mango butterflied prawns
Celeriac & porcini mushroom soup with truffle oil (v)
Smoked duck breast & blood orange salad with french dressing
Goat's cheese roulade, pistachio & walnut crust, pomegranate & pink grapefruit (n)(v)
Creamy mushrooms, french baguette, rocket salad (v)
Lamb koftas, chopped salad, tzatziki
Cajun burger with Mexican sauce, fries & salad
Monkfish wrapped in parma ham with curry sauce & coconut rice
Caramelised beetroot tart, thyme glazed goat's cheese, crispy kale, tomato fondue (v)
Creamy Tuscan chicken, sautéed tenderstem broccoli, Dijon mustard potato purée
Sticky back baby ribs in BBQ sauce, salad & skinny chips
Crab linguini with chilli, lemon & fennel
Blood orange Cointreau panna cotta
Profiteroles with milk chocolate, banana ice cream
Sticky toffee pudding with salted caramel sauce, clotted cream ice cream
Winterberry cheesecake, fig & pecan nut chutney (n)
Vanilla crème brûlée
(v) = vegetarian (n) = nuts (gf) = gluten-free